You are in control.
It's YOUR Adventure. Learn to guide it to where you want to go..
This introduction will give you an overview of the concepts and some specific strategies that will allow you to transform your life in ways that will benefit you and everyone you interact with.
REVIEWS
By Ronald Hartenbaum - Wonderful book. Especially in times like these it's important to draw positivity from within as opposed to seeking out external sources. Our thoughts shape how we are perceived by others and that internalized state begins and ends with you. Highly recommend.

By Patricia A Norway - Inspiring! "There are two ways to live: you can live as if nothing is a miracle; you can live as if everything is a miracle." Albert Einstein (American Physicist who developed the special and general theories of relativity. Nobel Prize for Physics in 1921. 1879-1955)"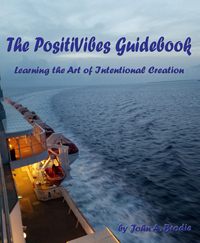 Get an instant PDF download of the PositiVibes Guidebook: Learning the Art of Intentional Creation.


Now available - Part One of the The Designer of Reality™ Adventure Guide Manual.