The PositiVibes Network promotes a philosophy that individuals can "imagineer" the intentional positive transformation of personal realities through developing the inherent Creative Power of each individual (that sounds complicated but it is really just about believing that what you want is going to happen instead of fearing what you don't want - it is always your choice and that choice will determine your future).
If you have a story about something in your life or a story about someone shaping an improved reality for themselves and others, send a note to goodstories@positivibes.net.
Click HERE to sign up to get involved in spreading POSITIVE News and Information - LOVE and HOPE are the dominant forces of daily life regardless of the picture presented by the media - (click to get on mailing list).
Spreading Positive Energy Vibrations and Beliefs to Accelerate the Evolution of Consciousness.
Imagineering Reality - Creating Intentional Positive Shifts in Personal Experience with the help of The Designer of Reality™ Guidebook and other insightful materials.
"Man did not weave the web of life, he is merely a strand in it. Whatever he does to the web, he does to himself." - Native American Proverb
"Emancipate yourselves from mental slavery. None but ourselves can free our minds" - Bob Marley
You are here to learn how to intentionally shape your reality in ever more pleasing ways and thus benefit all of Creation. This is a story about KARMA. Karma - also know as The Law of Attraction or Newton's Third Law of Motion - is simply a reciprocal exchange – what we give, we receive in kind. For every action, there is an equal and opposite reaction. The Designer of Reality™ program is about learning to send out the energy that will bring you the result that you want.


"Thou Art God." Valentine Michael Smith
As difficult as it may be for you to believe, the REAL You is far more than the character you probably believe yourself to be. (Your name here) is only a very small part of who you really are. You have "imagined" this character into being so that you may go adventuring in a physical world of time, matter and space. Once you can accept that this concept may be true you can embark on a path to learning how to command your true ability to transform and create physical reality. You will learn that your BELIEFS create your reality. If you are willing take a leap of faith and test these ideas you will find that you can determine your future by intention and that you can "walk through the valley of the shadow of death and fear no evil" because You are in control. The Designer of Reality™ program offers some insights to help you discover your full potential as a creative being.
It is really just a matter of learning to accept that you are an immortal expression of an infinite energy field that has designed a character, (your name here), to interact with the time space reality we find ourselves in.
Your doubts are your only barrier to doing whatever you may dream of doing. If you are suffering from any anxiety or fears, you can free yourself - these are self-imposed limitations. They can only be if you choose them - with a little practice you will begin to make improved choices. There are some mental skills you need to learn but all that is required to become the powerful "Designer of Reality" you are destined to become is to let all of your fears and worries go. It will take some mental effort and the awareness of a few important concepts but there is no reason that you cannot do it in this lifetime. It is as easy as consistently seeking out those things that bring you joy and appreciation and wasting none of your energy worrying about the "unwanted". Make HOPE, LOVE and JOY the forces that drive your every action and decision.
The energy you channel will transform the world in wonderful ways. It is those like you who learn this truth that will help prevent others from sinking into a pit of fear, despair and sadness. As the consciousness level of the planet is elevated by your influence, bigotry, hatred, anger, jealousy and disease will be more and more diminished with each passing day.

We want to encourage you to dis-connect from the reality that is promoted by the "bad news" media and "entertainment" industries. Once you know why these fragments of the human experience get so much attention it will be easier to rise above them.
Yes, there are unwanted things happening all around us but focusing our attention on them magnifies their impact and the "reciprocal exchange" effect of karma and the Law of Attraction will only cause more of the same - you should eliminate or at least keep to a minimum your exposure to BAD news and "negative" people.
Your mission will be to keep your focus on the people and things that are RIGHT with the World. Believe in and promote those who are working to positively transform the planet in big and small ways. If we are to assure a more rapid positive evolution in consciousness for the planet your participation is urgently needed.
There is a paradigm shift occurring in the evolution of human consciousness that will transform our species over the coming decades.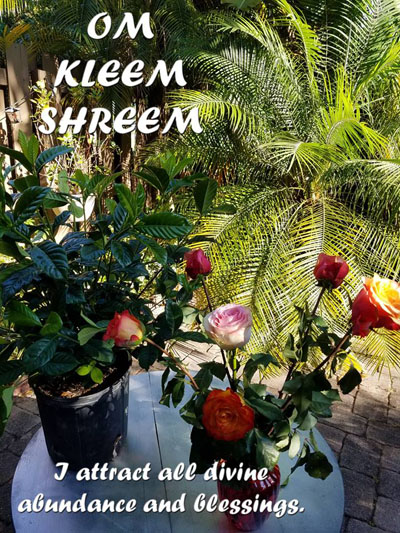 Regular Meditation for 15-20 minutes a day is the BEST thing you can do for immediately increasing your health, wellbeing, happiness and satisfaction with your life.
The purpose of meditation is to temporarily let you tune-out the voice of your ego that is giving you a virtually non-stop play-by-play of your day. That voice can be very limiting because it bases everything on past experience so its narrative just keeps you in the status quo. Since you would probably like to positively alter some of your current circumstances the only way to do that is open the door to some fresh thought and inspiration. This happens when you sleep but meditation is the most powerful tool to open the door to new realities. Opening that door for just a few moments can have a great effect. Each day the crack in your current reality will widen. The functioning of your brain and the neural pathways will become more efficient.
In a matter of days you can notice significant differences in your life. There are lots of ways to meditate and the only way you can do it wrong is to try hard. Just relax and give it a try.
Meditation Exercise
To do our meditation experiment, find a comfortable spot where you can sit quietly without being disturbed for 15-20 minutes.
When you are comfortably seated, close your eyes and focus your attention on your breathing. You don't need to try and breathe any special way, just take a few slow deep breaths to start and then breath normally.
The focus on your breathing will have you already feeling more relaxed. As you continue your focus on your breathing, consciously relax your body. Let all your muscles in your face and neck relax. Tell yourself, "My whole body is totally relaxed". (with a little practice this exercise will get even more effective)
Take 1-2 minutes focused on your breathing and consciously relaxing the muscles throughout your body.
Now, begin saying to yourself (in the mind – not out loud), "Om Cleem Shreem". Just keep repeating this "mantra" to yourself. Om Cleem Shreem, Om Cleem Shreem, Om Cleem Shreem – this translates to English as "I attract all divine abundance and blessings".
"Om Cleem Shreem" "Om Cleem Shreem" "Om Cleem Shreem" …
Whenever you notice that another thought or physical sensation has captured your attention, "gently" go back to repeating the mantra in your mind. "Om Cleem Shreem", "Om Cleem Shreem", "Om Cleem Shreem"…
Continue this process for 10-20 minutes.
After this time period, let the mantra go and come back to placing your focus on your breathing – slow even breaths. Give it a minute or so and then you can open your eyes when you feel ready.
The first of the Designer of Reality™ guidebooks is now available to suggest some additional ideas that will transform your view of the world and help you realize the power you have to shape reality and help assure your safe passage to wherever you want to go.
REVIEWS
By Ronald Hartenbaum - Wonderful book. Especially in times like these it's important to draw positivity from within as opposed to seeking out external sources. Our thoughts shape how we are perceived by others and that internalized state begins and ends with you. Highly recommend.

By Patricia A Norway - Inspiring! "There are two ways to live: you can live as if nothing is a miracle; you can live as if everything is a miracle." Albert Einstein (American Physicist who developed the special and general theories of relativity. Nobel Prize for Physics in 1921. 1879-1955)"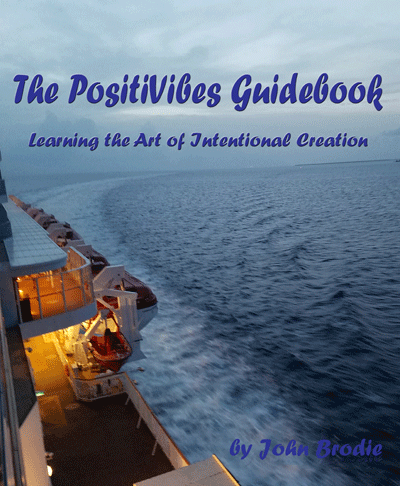 Get an instant PDF download of the PositiVibes Guidebook: Learning the Art of Intentional Creation.


Now available - Part One of the The Designer of Reality™ Adventure Guide Manual.